Mission and Vision
Mission Statement
The goal of the Chiba Foundation of Health Promotion & Disease Prevention is to achieve prevention and early detection through medical check-ups, examination and research studies, as well as contributing the local community by supporting the health promotion of every people of Chiba prefecture.
Vision
We are always dedicated to providing prompt and high accurate health check-ups and examination, so as to foster reliance, satisfaction and reassurance by every person who utilize our facilities.

We provide high quality services for the comprehensive physical check-ups, including cancers, infectious diseases, and lifestyle related diseases, etc.

We make our best effort to focus on research investigation and conduct public awareness activities, in order to contribute towards the advancement of public health and preventive medicine, and assist people of Chiba to promote their health.

As a public interest corporation, we are working to achieve an affluent society, utilizing fair and transparent business practice.
Our Businesses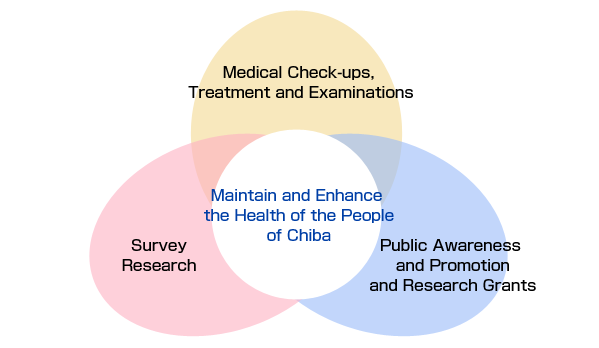 Accreditation
We have actively obtained various certifications and are dedicated to providing high quality medical service, as well as improving and maintaining our precision.
1. ISO15189
ISO 15189 is a global initiative that aims at creating a standard measure of quality in medical laboratories. We achieved Japan Accreditation Board (JAB) ISO15189 Accreditation in March 2013, as a first clinical laboratory institution in Chiba. This certification shows that we have been internationally recognized as maintaining high standard in general tests, hematological tests, biochemical tests, immunological tests and tests rerating specific medical examinations.
2. Accreditation of the Excellent Facilities for Health Evaluation and Promotion
We have been accredited as the excellent facility for Health Evaluation and Promotion by Japan Society of Health Evaluation and Promotion since 2011.
3. Privacy Mark Certification
Privacy Mark is a scheme whereby the Japan Information Processing Development Corporation (JIPDEC), an external body under the jurisdiction of the Ministry of Economy, Trade and Industry, grants certification to private companies that have the necessary systems in place to adequately protect personal information in their possession. Certified companies are entitled to use the Privacy Mark logo as part of their business activities.
We were granted Privacy Mark certification by JIPDEC on April 28, 2006 and passed 5th renewal accreditation on 2016.

4. Accreditation of Japan Accreditation Council of Occupational Health Services
Japan Accreditation Council of Occupational Health Services evaluates the services of medical examination institute which implements medical examinations based on Industrial Safety and Health Act. We obtained accreditation to satisfy the eligibility requirements of Health Check-ups and Working Environmental Measurement.
Quality Control
Laboratory Quality Assurance Committee
Laboratory Quality Assurance Committee was established for the purpose of maintaining and improving the quality of our services, including health check-ups, examination, tests and our medical treatments. Each member of Laboratory Quality Assurance Committee is an expert member of one or more subcommittees which consist of experts of specialized fields.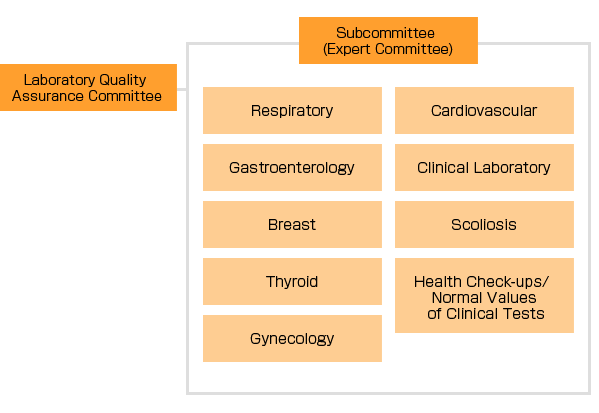 Human Research Ethics Committee
The Human Research Ethics Committee at Chiba Foundation for Health Promotion & Disease Prevention is responsible for ethical and scientific acceptability of all medically related research projects conducted at our foundation and involving human subjects.
Health Information Management
We maintain and safeguard the confidentiality of personal data of examination and medical record information in accordance with the patient's right to privacy and legal requirements governing such.
Each person's results of health check-ups/examinations are stored in our health information management system. In case of consultations for outpatients by specialist or comprehensive health screenings, doctors refer to past data for effective diagnoses.